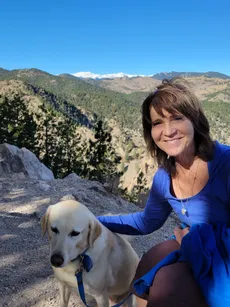 My name is Laurie Branch and I have practiced psychotherapy in Colorado for 20+ years. I have been highly trained in psychotherapy and use effective ways of assisting people in their growth and healing.
I earned my Master's Degree in Pastoral Counseling from St.Thomas Seminary with additional training and certification in the following areas:
Licensed Professional Counselor, LPC

Certified Addictions Counselor III

Certified by National Board of Counselors

Certified Emotionally Focused Couples Therapist and Approved Supervisor by

ICEEFT
Certified Brainspotting Therapist through Developer and Trainer, David Grand, Ph.D.

Co-Founder of Boulder Community for Emotionally Focused Therapy

BoulderEFT
In my work with couples, I promote increased emotional safety and bonding in the relationship through EFT. In my work with individuals, I develop a strategic treatment plan to create the most healing benefit possible. This plan will give us a clear beginning, middle and end to the therapy. Together, we can create the life you want and deserve!

A Message about Gender Inclusive Pronouns
My pronouns are she/her/hers.

I am committed to providing a diverse and inclusive environment. As a service provider, I not only want people to be comfortable being themselves, but also to be celebrated for their identities and what makes them unique. What are Pronouns (or "Gender Pronouns" / "Preferred Gender Pronouns")?

Pronouns are used in language all the time when we refer to ourselves or other people. Examples of pronouns you might use refer to others are:
- he/him/his (for someone who might identify as male),
- she/her/hers (for someone who might identify as female),
- they/them/their (for someone who might not identify strictly as male or female, these pronouns are considered 'gender neutral'; also used when referring to multiple people).